McLean County board approves EDP wind farm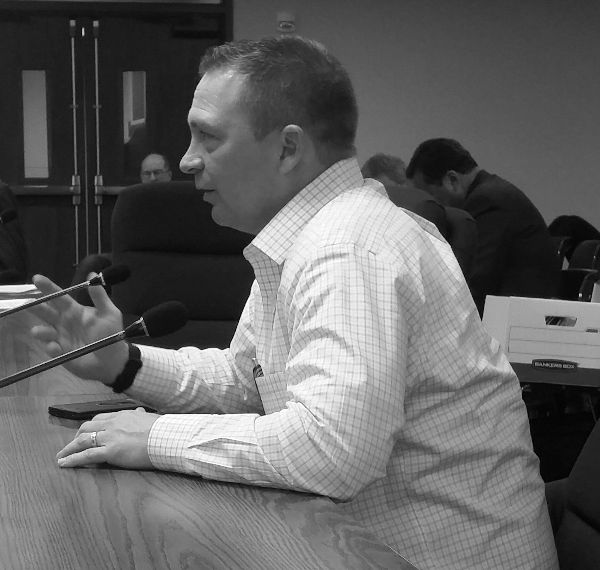 Ron Paul, Laborers 362, testifies before the Zoning Board of Appeals in support of the EDP wind energy project.
By a resounding 16-3 vote, the McLean County board approved a second wind farm in northern McLean County, the EDP Bright Stalk Wind Farm.
58 turbines, producing 250 electrical megawatts, are included in the project.
Last month, the board approved, by a narrower 10-8 margin, the McLean County Wind Energy Project in the same area.
Voting against the Bright Stalk project were board members Don Cavallini, Chuck Erickson and George Wendt.
The McLean County Zoning Board of Appeals had given a unanimous recommendation on the project, after hours of testimony and interrogation.
Laborers 362, Operators 649, Electricians 197 and Carpenters 237 representatives and members attended the hearings.
Union representatives testified on the importance of the wind farms for economic development, job opportunities and renewable energy.
Hundreds of union jobs could result from the construction of both these wind farms, along with taxes for local schools and government, plus long-term jobs.
Voting YES for wind farm jobs:
Josh Burnett (R)
Jacob Beard (R)
William Caisley (R)
George Gordon (D)
Mark Johnson (R)
Martin Randall (R)
John McIntyre (R)
Scott Murphy (R)
Erik Rankin (D)
Carlo Robustelli (D)
Susan Schafer (R)
Ryan Scritchlow (R)
Paul Segobiano (D)
David Selzer (R)
Jim Soeldner (R)
Laurie Wollrab (D)
Voting NO for jobs:
Don Cavillini (R)
Chuck Erickson (R)
George Wendt (R)