Paul Penn a History Maker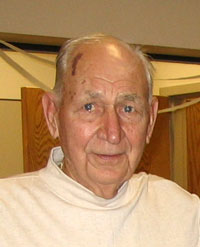 On June 14, 2012,, the McLean County Historical Society held its first "History Makers" dinner at Illinois State University. That night civil rights pioneer, the late Caribel Washington, former county board chair Nancy Froelich and Laborers Local 362's Paul Penn will be the honored "History Makers."

Emerging from a rough Depression childhood through World War II service, Paul Penn emerged as a guiding light for McLean County labor, improving conditions for all workers.

Paul was born in 1925 to John and Ethel Penn, raised by his step-father Nels Nelson. A childhood memory from the Depression years is his family's apartment on South Center Street, across the street from the Laborers Hall, watching unemployed men mill in the streets in 1933 – 34.

Paul started work as a construction laborer in 1943. At that time asphalt was unloaded from rail hopper cars and then heated on site. With no training, he was atop the rail car, signaling the crane operator. Shortly after that he was drafted, driving trucks for the famous "Red Ball Express" in Europe, supplying General George Patton. After discharge in 1946 he came back to Laborers Local 362, marrying his wife June (Marble) in October 1946. Together they have four children, Donald, Linda, John and David, along with nine grandchildren and 15 great-grandchildren.

In 1958 he was elected Laborers Local 362 business manager and has served the local ever since. Under Paul's leadership, the union established its first health and welfare fund in the late 1950s, and in 1971 its first pension fund. In the late 1950s, he also won a "non-discrimination" clause in the local union's contract, long before such equal treatment was mandated by law. Local 362 is led today by its fourth generation, brothers Anthony and Eric Penn. John Penn is now an International Vice-President and David directs the Midwest Region Laborers Organizing Committee. "I am so proud of my family, they all turned out great," Paul notes.

Paul remembers a very close relationship between the trades. Before Interstate 74 a drive from Peoria was more difficult, so he would monitor jobs for Peoria-based trades like Operating Engineers Local 649 and Iron Workers 112. This also meant that if those trades needed a good McLean County worker, Paul was often able to recommend someone.

Paul's leadership philosophy was that the local union belongs to and serves the member. He also strongly believes in forgiveness. "Never hold a grudge," Paul said, "because even if you are angry with someone, there still is a family and children depending on that member working. You make sure you are not going to mistreat anyone." Another of Paul's often heard remarks is "Give this person a break." If someone was down and out, he was ready to do what he could to get that person a job or the assistance they needed. "I get a bigger kick out of helping people than anything else," he said.

McLean County labor has always been community generous with its skills. In 1947, newly back from military service, Paul helped build the Girl Scout's "hike haven" in Forest Park. The local union trades in the 1950s donated an addition to Miller Park Zoo and helped set and move the locomotive to Miller Park. The ball fields and accessory buildings at O'Neill Park were a personal project of Paul, Carl Nierstheimer, Dewey O'Rourke, Joe Yuriece and "Dubby" Sprague of the Bloomington Police Department. Since then the Korean-Vietnam Monument, World War II monument, Normal Theater, Compassion Center, Sheridan School Poetry Place, the Baby Fold, Easter Seals, the YWCA, the YMCA and numerous other community projects have been physically improved by organized labor's donated skills.

Paul's other personal passion is golf, having started as a caddy at Bloomington Country Club while a teen. At age 15 he finished third in the Junior City Tournament and has enjoyed the game since. Trying to "give those in need a break" and with a definition of family broader than blood, Paul Penn has greatly enriched our McLean County landscape.