Do Normal's tax incentive construction hurt our schools?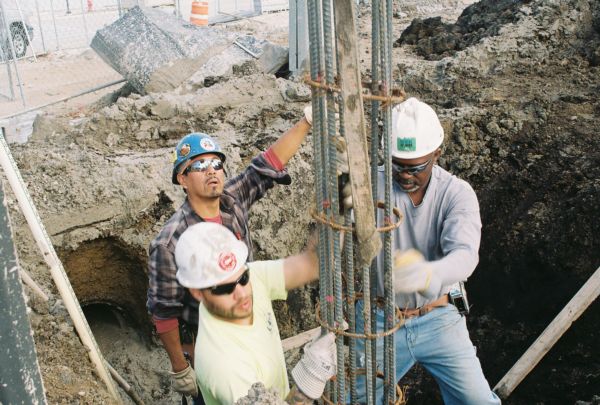 Building Normal, Illinois' Uptown Station in 2011 -- a project completed with government funds.
Do tax incentives for new construction "rob" area schools of needed funds? Some Normal Town Council candidates are claiming tax-incentives for economic development hurt area schools.
On October 15, the Normal Council agreed to a $29.2 million, five-story office building in Uptown Normal, deemed the "Trail East" project. This includes $8 million in tax incentives (TIF-Tax Increment Financing), returned to the developer in lower taxes after the project's completion.
The Town's ordinance requires the payment of prevailing wages and benefits, which for McLean County, are comparable to union rates. 200 construction jobs are expected, plus 300 full-time employees occupying the completed structure. Local architectural firm the Farnsworth Group is planning on occupying the building.
The building will encompass two existing Town-owned properties, 104 and 108 East Beaufort Street, plus part of a parking lot. These properties are owned by the Town and currently pay no taxes. "Trail East" will cover the northeast corner of Normal's Uptown Circle.
At the October 15 council meeting and in subsequent interviews, Town council candidates have labeled the project as hurting area schools because of lost property taxes. Council candidate Stan Nord told WGLT-FM on November 29 that "They are giving away money that goes to educate our kids." Another challenger, Joel Studebaker, who spoke against the development at the October 15 hearing, told the Union News, "When used successfully, TIFs help everyone. When used irresponsibly, TIFs redirect funds from the services we rely on — our schools in particular — to developers, investors, and business-owners. Meanwhile, residents pay more to make up the difference as our towns and cities use those funds to manipulate our local economies to the benefit of a hand-chosen few."
Although council challengers claim incentives are taking away school funds, Unit 5 Schools feels differently. On May 17, the School Board adopted a resolution supporting TIF funds in Uptown Normal.
School board attorney Curt Richardson said, "We are not losing any money, this makes economic sense for us. … The potential of return on the investment greatly exceeds what we're giving up each year." The property where the Trail East development will build is currently owned by the Town, so it is tax free, contributing very little to the schools. Richardson also noted how jobs, particularly construction jobs, bolster the school district's long-term revenues. "How can you argue if we're creating jobs for our community?" he said. "If they (construction workers) have money they can buy houses and will contribute taxes."
Normal's Finance Director Andrew Huhn tracked 15 years of Normal's Uptown Investment. The Town invested $85,596,000 in sewer, water, road and bonds to rebuild the area. Huhn said this revitalization attracted $181.1 million in new construction and other investment, plus the Town collected $34.3 million in tax revenue because of the enhancements. Numerous construction and service jobs help sustain further economic activity.
Since the redevelopment effort began, the Town has attracted two full- service hotels, built a new multi-modal Amtrak and Town Hall center, a Children's Museum, plus added upscale restaurants. Refurbishment dollars were also offered to upgrade and preserve older, architecturally significant buildings.
Livingston & McLean Counties Building & Construction Trades Council President Rich Veintengruber of IBEW Local 197 said, "Uptown Normal has been incredibly important for local construction jobs. There has been very little vertical construction in McLean County. The various TIF funded efforts throughout the community have created job opportunities, provided the Town is conscientious about developers paying the appropriate wages."
Normal Mayor Chris Koos noted that Uptown has become a national model for economic development. He said that incentives help attract development to the urban core, as there are extra costs in reviving existing sites, versus building on greenfields.
There are other returns in addition to taxes. "A vibrant uptown is significantly helping Illinois State University (ISU) attract faculty and students, the students spend a lot of money here," Mayor Koos said. "Health care employers tell me the first place they bring new doctors is Uptown, to show them this is a cool place to live."
Despite claims about financial burdens, Koos said the Town has an AAA+ bond rating and spends only 5.2 percent of its $105 million total budget on debt service. "Imagine if you made $105,000 a year and only spent five percent of your income on debt?"
"Without a public private partnership, this development would have never happened," Koos added. To critics who complain about Uptown, he said the Town has also invested on Main Street and Veterans' Parkway efforts.
"Without the Town's investment, we would have a decrepit uptown. All across the country, communities are reinvesting in their central business districts."