Union News editor Matejka retires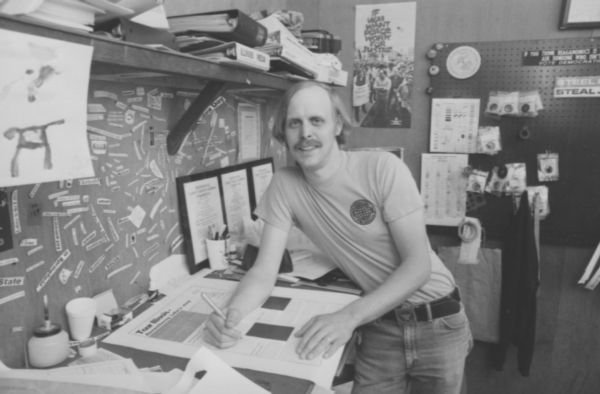 Union News editor laying out an edition, Mike Matejka, August 1985, photo courtesy the McLean County Historical Society.
Since May 1980, I've had the honor of editing the Union News and sending it to your home monthly. That is 480 publications, starting under the masthead McLean County Union News, followed by Livingston & McLean Counties Union News and most recently as the Grand Prairie Union News.
It's been an honor because it's a position I truly enjoy; I love to write and share; hopefully the publication got opened and inside you found something of interest.
Local labor publications go back into the 19th century in Bloomington; through 1955, a Bloomington edition was printed as part of Peoria's labor publication.
In the mid-1970s, Laborers Local 362 was rallying local unions to a greater community presence. The Labor Day Parade marched again in 1977, community outreach efforts were accelerated and with the guidance of then Local 362 business manager John Penn, Laborers Roger Nelson, Glenn Anderson, Tom McLaughlin and Marty Weighman helped start the McLean County Union News. Peoria Hotel Employees business manager John Martin assisted and Bob Buford was among the editors.
In 1980, I was asked to take over the publication, which had not appeared for over a year. The first issue was Illinois AFL-CIO President Stanley Johnson's retirement party at the Bloomington Armory in May 1980.
As a student at Illinois State University, graduating in December 1974, I was very active with Cesar Chavez and the United Farm Workers' grape and lettuce boycotts. In March 1978 famed UFW organizer Dolores Huerta came to ISU; that's where I first met John Penn and Ronn Morehead. Two weeks later the famous 56-day long Normal Fire Fighters strike began.
Normal Fire Fighters
As a supporter, I mobilized students and tried to assist Normal Fire Fighters Local 2442 during their 42-days in jail and their fight for a first contract. Through this I became better acquainted with Penn, Morehead and then Trades & Labor President David Hayes. Morehead asked me to come to Trades & Labor meetings as a "guest delegate," something I've continued to do since 1978.
In 1980 I was asked to take on the Union News; Morehead and Nelson were on the local federal Comprehensive Employment and Training Board (CETA), obtaining a grant to pay the first months of minimum wage salary. For those who remember Bloomington's underground paper, the Post-Amerikan, production facilities were shared with them in a moldy basement on West Oakland Avenue. Then Pantagraph reporter Mike Glover helped mentor your eager editor.
1980s struggles
The 1980s were not as auspicious time to renew a labor publication. President Ronald Reagan's firing of the Professional Air Traffic Controllers (PATCO) in 1981 and the recession that followed meant unemployment ravaged the Midwest. Unemployment insurance sustained me through this also, along with youthful optimism and enthusiasm.
John Penn deserves great credit for pushing local unions to build positive community relationships. This opened the opportunity to serve on many local boards, volunteer groups and my election in 1989, along with 362's Tom Whalen and later IBEW 197's Rich Veitengruber, to the Bloomington City Council, where we joined Cement Masons and Plasterers member George Kroutil on the Council.
Community changes
Looking back over 40 years, much has changed. In local industry, Eureka, General Electric and Modine all left town, while Mitsubishi came and then went. In 1982 public employees won the legal right to organize in Illinois. Construction is more automated with new technologies.
The Union News early days was almost a two week process. Articles were typed on a specialized electric typewriter with differential spacing, pages were laid out with scissors, glue and an x-acto knife, and headlines were laboriously printed letter by letter on photographic paper. Today it's all done on a laptop. Over the years, the Union News won 26 awards from the AFL-CIO's International Labor Communications Association.
Thanks goes to Bloomington & Normal Trades & Labor Assembly, Livingston & McLean Counties Building & Construction Trades Council, Amalgamated Transit Union Local 752, Kankakee Laborers Local 751 and our advertisers for supporting this effort; Laborers Local 362 helped sustain me when income was slow through call-out to construction jobs; since 1998, I've been on the Great Plains Laborers District Council payroll, which generously allowed time to produce this publication.
We've also had correspondents through the years who submitted articles, including attorney, now retired Judge David Butler, Diane Scheel, Machinist 1000, Ann Sheppelman, BC&T-GM Local 342, Dan Baisden, Laborers 751, Rick Terven, UA 99, Renee Nestler, AFSCME Council 31 and others.
Retirement-reorientation
I have filed my retirement papers, though I much prefer the word "re-orientation." I'll still be around and be active in the community, but no longer producing a monthly publication.
Thank you for reading. Our local unions are community involved, resilient and hopefully united in bonds of solidarity. You welcomed me into your union halls, job sites, picket lines, charity activities and homes to tell the workers' story. That sharing brought us all closer together and amplified our message to the larger community.
Hopefully through technology you'll keep in-tune and activated so that working people in McLean County receive recognition for their skills, service, contributions and value to our community. Knowledge is power – let's keep communicating to build labor power to sustain our families, co-workers and our community.
by Mike Matejka