Laborers Local 362 mourns the loss of Larry Williams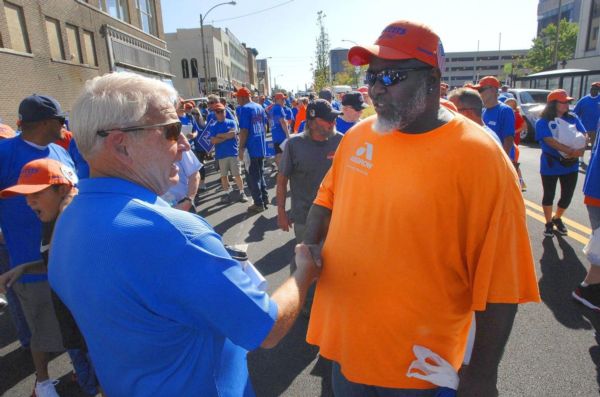 Midwest Region Manager and LIUNA Vice-President John Penn talks with Larry Williams, Bloomington Labor Day Parade, September 2019. (Pantagraph photo)
Laborers International Union of North America (LIUNA) Local 362 mourns the loss of its brother union member, Larry Williams, who was killed while working as a flagger on Route 24 on Tuesday, June 9.
"We are in a complete state of shock and send our condolences to Larry's family and friends," said business manager Eric Penn. "Larry was an outstanding union member – he had a big smile, a great attitude and made friends with everyone easily. He was a hard worker who earned his pay honestly every day. He brought his small children with him to parades and union events. His pride and love of his family and his generous spirit was contagious."
Work Zone Safety on the highway is a long standing issue with Local 362 and the Laborers. "At the start of every construction season we plead with the public, please slow down. A few minutes slowing down can save a life. In this case, a good Father and Husband did not come home on Tuesday night because a motorist didn't put on their brake and slow down."
Because of vigilance on highway safety, Local 362 has not lost a flagger since Gerald Smith was struck and killed on Interstate 55 on September 13, 1979. There were few regulations enforced for highway work zones. Then business manager John Penn called a protest strike. From that strike the Work Zone Safety committee was formed with the Illinois Department of Transportation, the Federal Highway Administration, the Associated General Contractors, the Illinois State Police and LIUNA. The committee still meets and continually brings forth new regulations.
Thanks to these work zone safety efforts, since 1979 speeds in work zones were made legally enforceable, flashing arrow signs and barrier walls were added, plus highway flaggers now complete a state-mandated training program.
"Even with all of our efforts for work zone safety, our pleas to the public and our training and support of our members, too many funerals are held every year. A good man with a big heart, a ready smile and a positive attitude is no longer with us."
Laborers International Union of North America Local 362 represents over 700 union Laborers in McLean County, including construction workers and public employees.