New Trades & Labor officers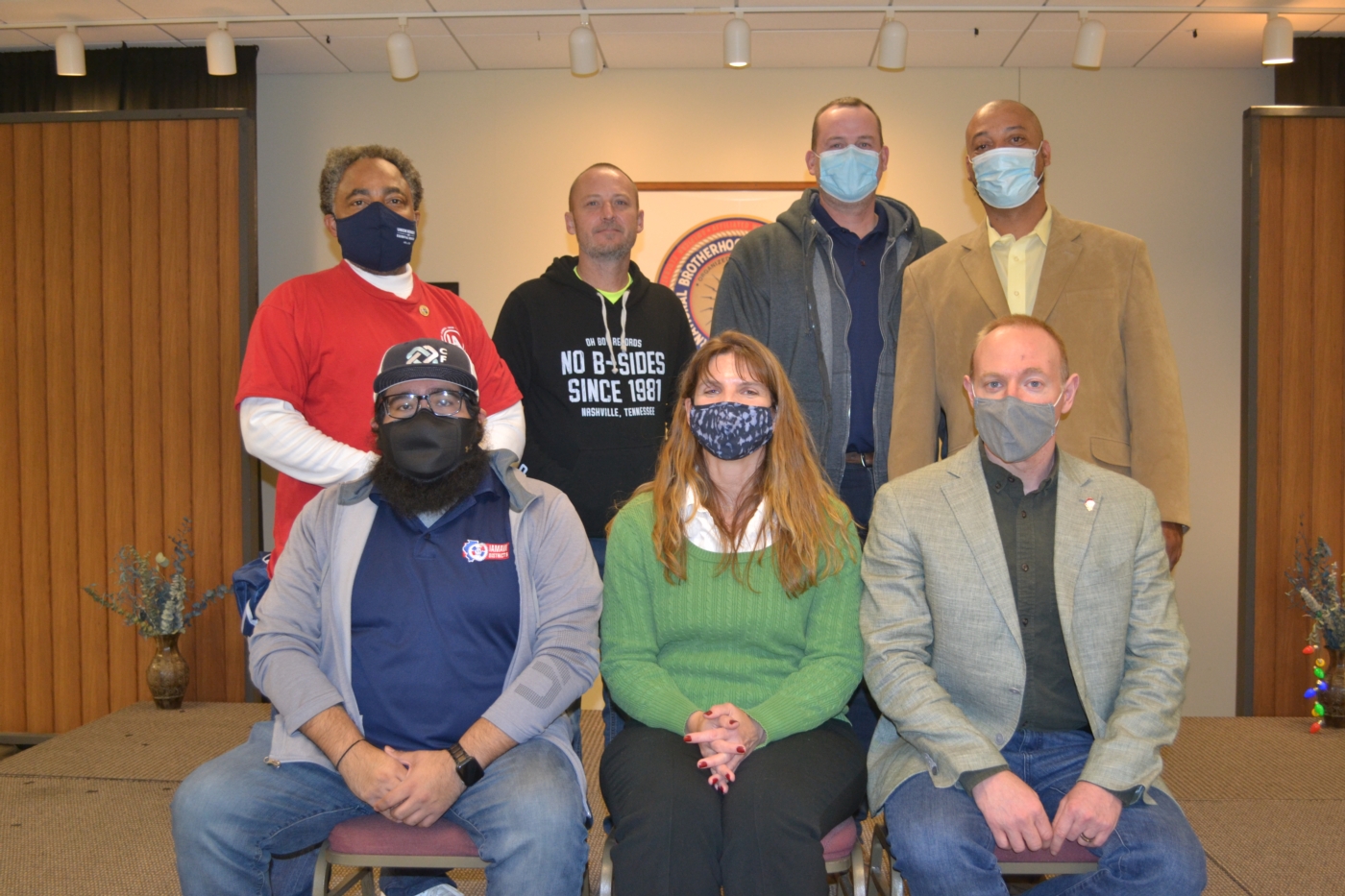 2022 Trades & Labor officers, sworn in on December 1. Front row, Vice-President Osmel "Oz" Toledo (Machinists 1000), Financial Secretary Renee Nestler (AFSCME 699) and President Adam Heenan (TNG-CWA 34071); back row, Reading Clerk Greg Henry (UA 99), Trustee Jake Knoblock (IBEW 197), Recording Secretary Matt Watchinski (UBC 237) and Trustee Keith Farris (ATU 752); not shown, Trustee Wendy Klessig (AFSCME 699).
For the first time in over forty years, the Bloomington & Normal Trades & Labor Assembly (BNTL) (AFL-CIO) has new leadership. Illinois Organizers Union, TNG-CWA Local 34071 member Adam Heenan, 38, is now the President. Adam works as an Illinois Federation of Teachers Field Service Director, representing IFT Locals from Pekin to Champaign.
The Trades & Labor Assembly is the AFL-CIO Central Labor Council for McLean, Livingston, DeWitt and Logan Counties, founded in the 1880s. Over 30 AFL-CIO unions are affiliated. For the past 40 years, the late Ronn Morehead, Laborers Local 362, had led the Assembly.
Before his current position, Adam was a Chicago school teacher and a Chicago Teachers Union member. His was inspired to get involved in the CTU alongside late CTU President Karen Jennings Lewis, who laid down three prescriptions for labor actions: "Does it make us stronger? Does it build our power? And does it unite us?"
"We stand on the shoulders of giants," Adam said. "The legacy that Ronn Morehead leaves us lives on. We want the Trades and Labor to be resource for both the organized and yet-to-be-organized workers in our community, doing the work of solidarity and charity for the entire four county region. We need to do campaigns that are creative and reflective of the labor community's needs."
Financial Secretary Renee Nestler (AFSCME 69) is beginning her fourth term in office. She echoed Adam's comments. "We need more activities and involvements. We have the solid annual events we do like the Labor Day Parade and the Christmas Party for low-income families, so we want to build and perhaps expand on those things. We need to do some unique things, some different things, to engage people and get people get more involved."
For the past year, the BNTL Assembly stood with the Illinois State University Graduate Workers' Union and congratulates the newly organized workers in their recent successful contract effort. Although not Assembly affiliated, Adam felt it was important for labor to support the organizing students. "We are on an upswing with young people seeking better living and working conditions. The ISU union (SEIU 73 affiliate) did important work and it is just a sample of the young people who are going to inherit this labor movement. We need to talk to all the young people. We need to cultivate unionism in this country and that starts at home."
"The first element of our strength is our membership diversity – class, gender, and racial diversity." When we have people involved who think broadly and creatively about working class empowerment, then that will bring us possibilities and opportunities to act and organize in a responsive way. I look forward to working with such a thoughtful group of workers from across our community and think creatively what we should be doing for our region."
Renee said the "BNTL should be a resource for area unorganized employees to see if they want to organize. We should be organizing the unorganized, educating. So many people don't come from a union household like they used to and don't understand what a union is."
More political involvement is needed, Adam noted. "Our political allies have been paying lip service to the labor movement. This has not worked for our rank and files' survival needs. We need political education around what neo-liberalism, as well as the policing systems for the enforcement of neoliberal economic policies, has wrought and continues to harm working people and our community, across our country and globally."
Renee felt the political campaign postcards the BNTL sent in the last election were an effective yet inexpensive way to reach members and deliver a union message. "We can develop a local presence, grow and build upon what we have. We have the dedication from those who have been involved a long time."
"I trust my union siblings to express the needs of their members and their locals, air our laundry internally where we have conflicts, and get our work done to the benefit of all workers and their families," Adam added. "We can make this a responsive, democratic body. Then we put the logistical structures in place to make participation in the meetings as easy as possible, so rank and file members can transparently participate in what we are doing and bring original proposals to the Assembly."
Along with Adam, officers sworn in on December 1 include Vice-President Osmel "Oz" Toledo, Machinists Lodge 1000; Recording Secretary Matt Watchinski, Carpenters 237; Financial Secretary Renee Nestler, AFSCME 699; Sergeant-at-Arms Kalyn Hinshaw, IATSE 193; Reading Clerk Greg Henry, United Association 99; and Trustees Jake Knobloch, IBEW 197; Keith Farris, ATU 752; and Wendy Klessig, AFSCME 699.
"We are the ears and the vocal chords for workers," Adam concluded. "We aim to be democratically responsive to the rank and file in our community, because only then can we build the county, the State, the country and ultimately the world we all deserve."