Local unions helped brighten the holidays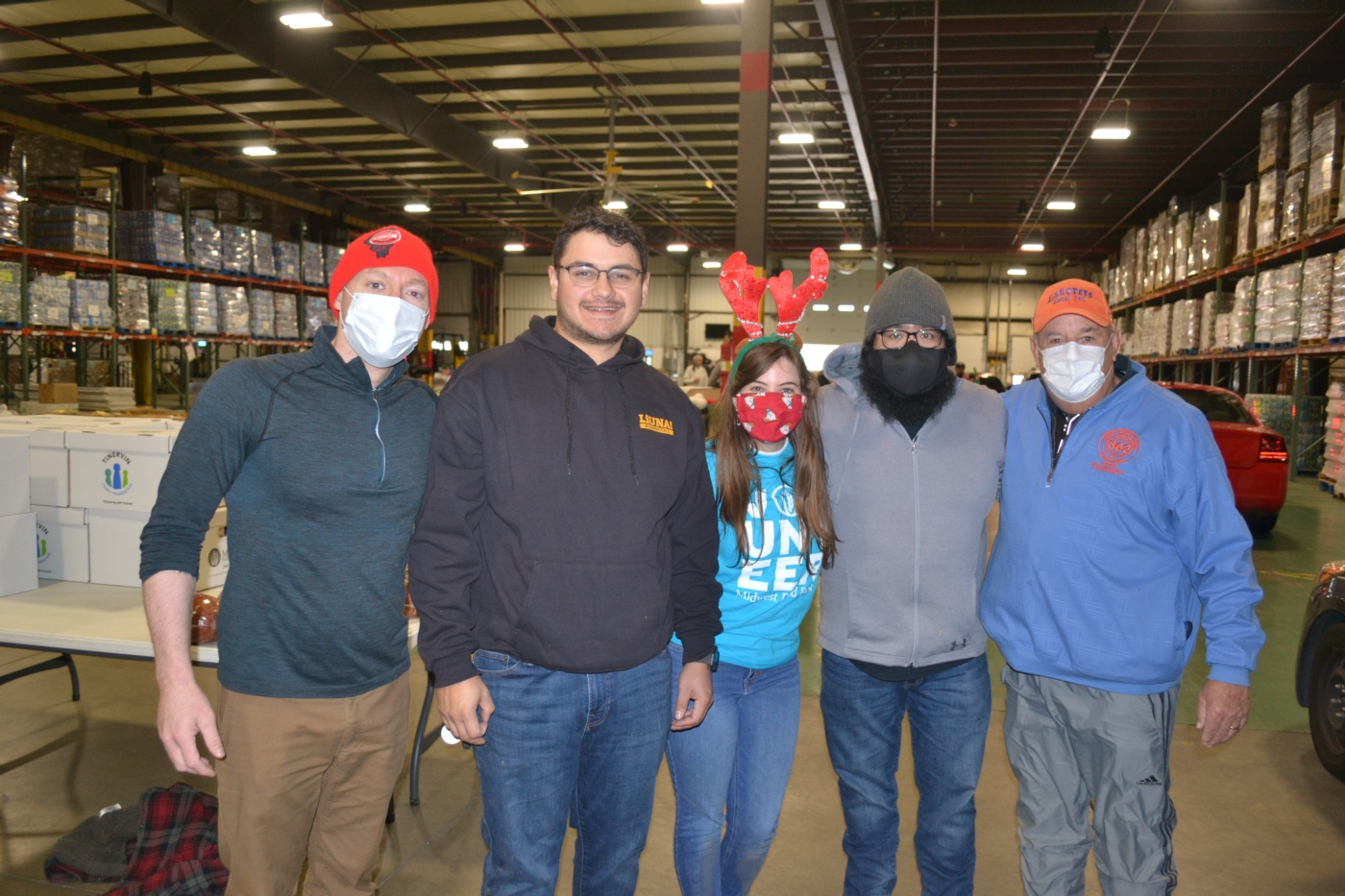 Volunteers helping load cars at the Children's Christmas Party for low-income families, December 11, 2021, Midwest Food Bank, Normal; left to right, Adam Heenan, Bloomington & Normal Trades & Labor Assembly President, Jose Pena (LIUNA 362), State Farm volunteer Calli Farrel, Osmel Toledo (Machinist 1000) and Joe Wilson (LIUNA 362).
McLean County union volunteers were out in force during December, helping brighten the holidays with the 39th annual Children's Christmas Party for low-income families and assisting the Salvation Army with food and toy distributions.
Since 1982 the Bloomington & Normal Trades & Labor Assembly (AFL-CIO) and the McLean County Chamber of Commerce have jointly sponsored the "Christmas for Kids" party. Additional sponsors include the Pantagraph Media Goodfellow Fund, the Midwest Food Bank and Business Builders.
Because of COVID-19 restrictions, this year was a drive-through distribution on Saturday, December 11 at the Midwest Food Bank in Normal. Over 700 children from 190 were served.
Significant material donations of toys, candy and fruit came from Blain's Farm and Fleet, the Tinervin Family Foundation, Illinois Wesleyan University, Midwest Food Bank and Darnall Printing. Toys and candy were obtained at a discount from HyVee, Gingerbread House and Meijer's stores.
Laborers Local 362 members handled traffic control and multiple union volunteers joined business organizations in preparing the families' gift boxes. Along with toys, a food basket and ham or turkey provided by the Tinervin Foundation was given to each family, plus a gift card donated by the Pantagraph.
McLean County Chamber of Commerce President and CEO Charlie Moore said, "The need is great this year and we certainly appreciate all the donations and volunteers who are going to brighten Christmas for area families this year." Midwest Region Laborers International Union of North America (LIUNA) Regional Manager and LIUNA General Executive Board member John Penn added, "We've been doing this for 39 years. Our local unions are proud that labor and management can work together in McLean County to build a better community and make the holidays more enjoyable for families in need."
The December 13 week Laborers Local 362 volunteers helped stock food baskets for the Salvation Army at the Midwest Food Bank and then assisted families in choosing children's toys and loading toys and food baskets for families at the distribution site. Families were served over a three day period with 362 union volunteers assisting at all stages in the process.