Standing up for union organizing & the PRO-Act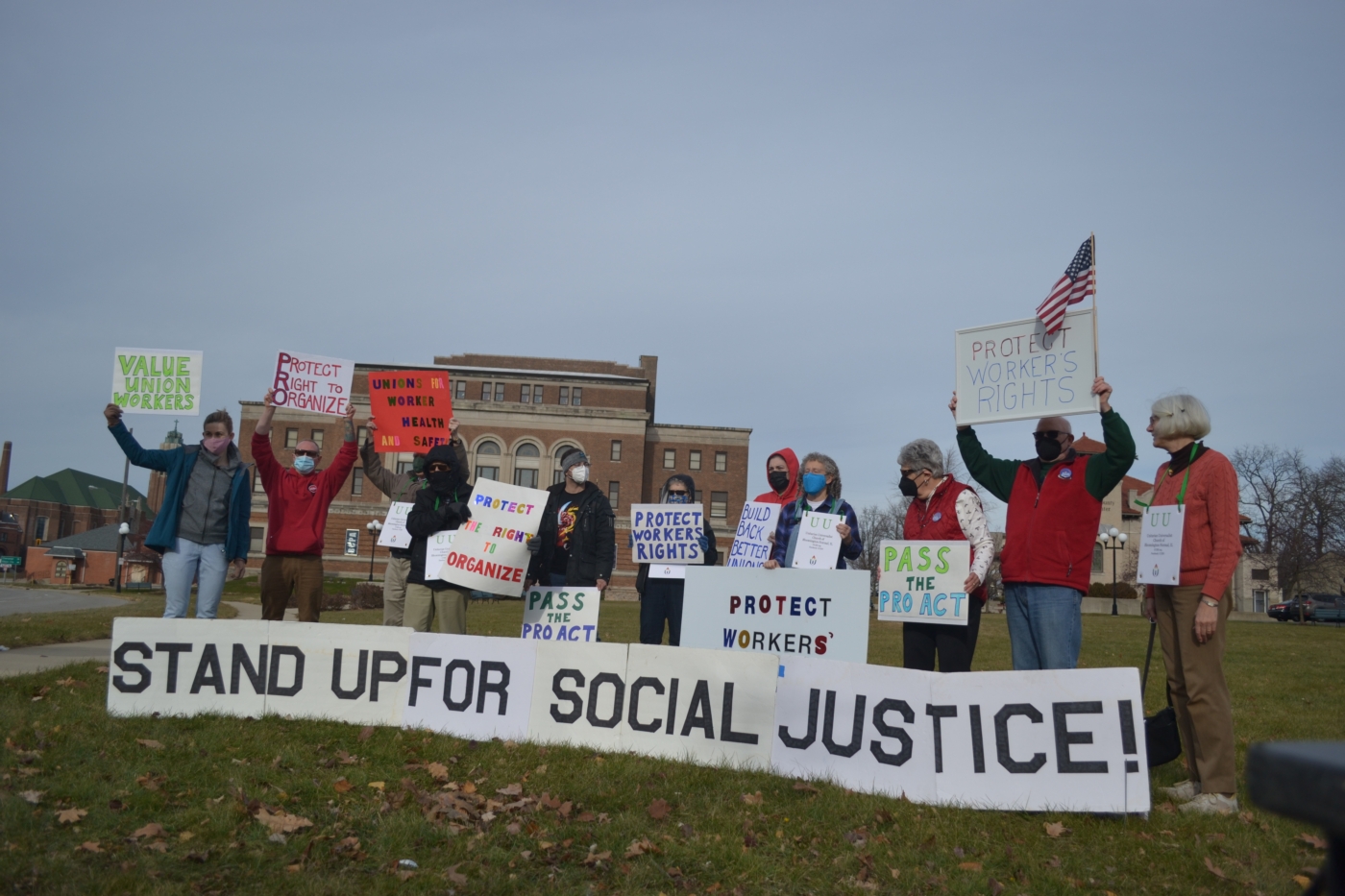 Stand Up for Social Justice stands up for union rights.
Want a union? 48 percent of Americans say they would join if given the chance, 65 percent support unions, the highest percentage in years.
So why don't people join? Because joining a union meets a legal onslaught from management fear tactics, firings and retribution, with the 1935 National Labor Relations Act too weak to face that onslaught.
The AFL-CIO is pushing the PRO-Act (Protecting the Right to Organize Act) in D.C., which would limit anti-union consultants and mandate companies share with workers their legal rights, plus raising fines and penalties for anti-union activity.
In Bloomington Stand Up for Social Justice is a Unitarian Church group that monthly billboards along U.S. 51 north by the Bloomington Center for the Performing Arts, highlighting public issues and legislation. On December 14 they stood in support of the PRO-Act.
Bloomington & Normal Trades & Labor Assembly President Adam Heenan addressed the group, encouraging their support for the PRO-Act and this November's ballot vote on the Illinois Workers' Rights Amendment.
Heenan outlined the PRO-Act's potential implication for local employers.
"Illinois Wesleyan University would have to bargain the impact of cancelling whole language programs with the educators that teach those courses," he said. "Illinois State University would have to stop stalling at the table with its lowest paid workers, and Rivian would have to respect a vote for unionization even after they make press statements saying, 'a Union isn't right for Rivian.'
"In a future where we've passed the Act and the Amendment, none of these scenarios would be the exclusive decision of the employers, nor burdened on the backs of the workers and their families. The PRO Act and the Illinois Workers' Rights Amendment create the conditions workers need to lift themselves us, so we don't have to beg for student debt forgiveness; we won't have to beg for paid parental leave, and we won't have to beg for working conditions that keep you and your loved ones safe from this virus or the next."
The PRO-Act passed the U.S. House of Representatives on March 9, 2021, by a 225-206 vote. Area Congressional representatives Democrat Cheri Bustos voted yes, while Republicans Darin LaHood and Rodney Davis voted no.
The bill is currently before the U.S. Senate. Within President Joseph Biden's Build Back Better bill, which passed the House of Representatives on November 19, 2021, language was included mirroring the PRO-Act, increasing fines on companies that stymie union organizing efforts. On December 11, the Senate Health, Education, Labor and Pensions committee approved the House Build Back Better text that included increased penalties on offenders.